What Parts Make up a Dental Implant?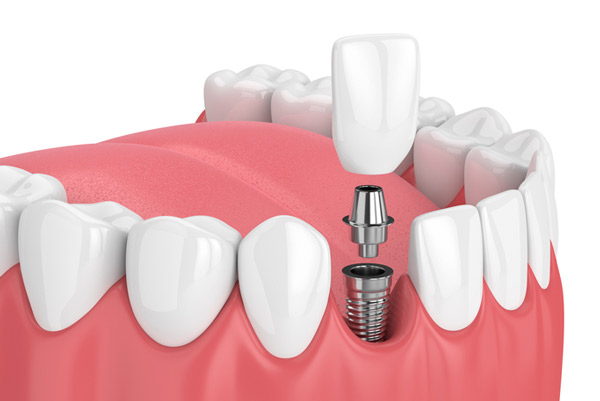 Dental implants are a great way to fix broken, cracked or missing teeth, and Dr. Gary Treinkman has years of implant experience under his belt! If you no longer have the confidence to eat, speak, laugh and enjoy life because you have one or multiple teeth about which you are embarrassed, our dental implants in Chicago can help. We offer single tooth implants, multiple-teeth implants, bone grafting, full-arched fixed implants and All-on-4® implants to suit a wide variety of client needs.

If you aren't familiar with the process of getting dental implants in Chicago, here is what you need to know about the procedure.


The Fixture

The fixture is the bottommost part of the implant that is secured into your jawbone. Your jawbone needs to be strong enough to hold the implant, so it is important that you receive a bone graft beforehand if necessary. Over time, the fixture will bond to your jawbone, a process that is called osseointegration. This will help prevent your jawbone from deteriorating. The fixture is made from titanium and resembles a screw-shaped design.


The Abutment

The second facet of dental implants in Chicago is the abutment. This is a small portion that lies right around your gumline and helps hold the third part of the implant (the prosthesis) in place.


The Prosthesis

The third and final part of a dental implant is the prosthesis. This is the tooth-like structure that is visible to the eye and it is matched to the natural color of your tooth. People won't be able to tell that you have a dental implant!


Candidates for Dental Implants

Are you wondering if dental implants in Chicago are right for your smile? Candidates for dental implants should have healthy gums and enough bone that the implants can be anchored into the jaw. Candidates should also be committed to taking care of the implanted teeth and the surrounding gums via brushing and flossing on a daily basis. If you are young and your jawbone is still growing, you are not a good candidate for dental implants. Heavy smokers, alcohol or substance abusers as well as pregnant women are not ideal candidates to receive dental implants as well.

Please contact the East Village Dental Centre if you are interested in exploring dental implants to help improve your smile!