What Is a Partial Denture?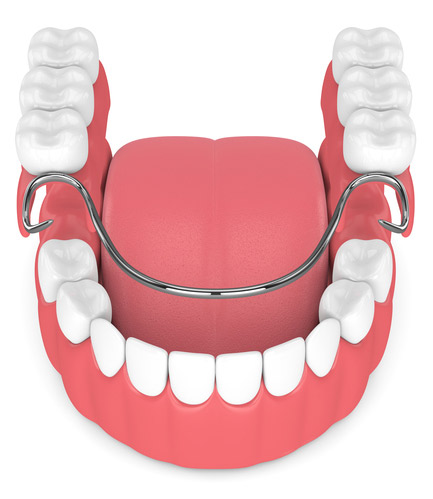 A partial denture is a removable, natural-looking dental implant option that replaces one or multiple missing or damaged teeth. It is one of the best options for those looking for dental implants in Chicago, but who do not require full dentures. If you have worn-out, damaged, or missing teeth from an injury, or wear over time, partial dentures may be a great option for you.


How Do Partials Work?

Partials can be made of different materials, but are typically composed of acrylic and/or metal. These natural looking teeth are attached to a pink, or gum-colored plastic base. This base is attached to metal wires that keep the dentures in place in your mouth.


Why Might You Need Partials?

If you're missing teeth due to injury, gum disease or for any other reason, the structure of the mouth is affected. Without partial or full dentures, the other teeth may begin to shift to compensate for the gap in your bite. When missing one or more teeth, your physical appearance can be altered along with your overall oral health, so inserting partials into the mouth will help stabilize the other teeth to prevent shifting.


What Is The Process For Receiving Partials?

Similar to all oral procedures, receiving partials begins with a consultation, in which the dentist evaluates the patient's individual needs and sets up an action plan. During the initial consultation, patients often discuss their price range, tooth color, and material with the dentist. The dentist must create a mold of the patient's teeth in order to make the exact partials necessary for their unique situation. Finally, after the partials are made, the patient can receive them during a final appointment.


What are the benefits?

Partials are a very cost-effective and minimally invasive option for replacing teeth. They are made to function exactly like the rest of your teeth, allowing you to eat, drink, and speak as you normally would. Many patients find that having partials drastically improves the appearance of their face, filling in gaps and pushing out the lips and chin. If you've experienced tooth loss, and feel it's time to get partial or full dentures, don't hesitate to reach out to East Village Dental Centre for dental implants in Chicago.

While tooth loss due to injury or gum disease is frightening, partials are a very cost effective, minimally invasive, natural-looking option for those looking to improve their smile. Rest assured East Village Dental Centre will help you select the right option for your dental implants in Chicago based on your unique set of needs and oral health.