Teeth Anatomy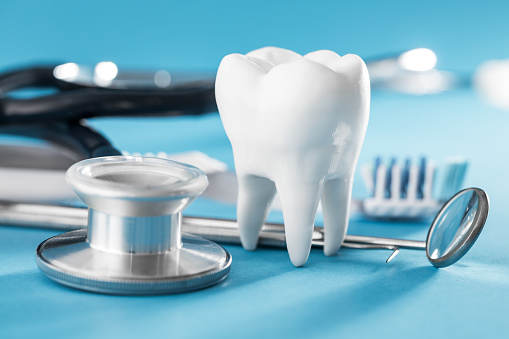 Have you ever wondered what makes up the anatomy of your teeth? Many people do not consider their oral health to be as important as the rest of their general health, which could be a mistake. It is important to understand the development and makeup of your teeth in order to maintain good oral health. Having a general knowledge of your oral anatomy can be crucial to spot the early signs of health issues such as gum disease, and to know when to consult with our dentist.

While knowledge of the teeth is important for your health and well-being, getting into the nitty-gritty can be left to the professionals. We're providing you with some of the basics.


Structure of the Adult Mouth

The teeth are the hardest thing in the human body, playing a big role primarily in speech and chewing. The normal adult mouth has 32 teeth, consisting of:

| | |
| --- | --- |
| • | 8 incisors: the center teeth in the top and bottom jaws |
| • | 4 canines: the teeth next to the incisors (the sharp ones) |
| • | 8 premolars: the teeth between the canines and molars |
| • | 8 molars: the teeth at the far back of the mouth |
| • | 4 third molars (wisdom teeth): these molars erupt around the age of 18 and are typically removed |
The Makeup of a Tooth

While there are tons of important microscopic elements involved in the makeup of a tooth, we're going to introduce a few that may be familiar to you: enamel and roots. Issues with these elements of the tooth often lead to health issues, indicating it is time to visit our dentist.


Enamel

Enamel is the hardest part of the tooth. It is the white part that is visible to everyone, and it serves as a protective layer for the inner components of the tooth. Our enamel is made up of calcium phosphate, which is a strong mineral that, when kept healthy, protects the teeth from cavity-causing bacteria. Luckily, our enamel can be strengthened by using toothpastes and products containing fluoride, which the East Village Dental Centre consistently provides to patients.


Roots

Our teeth's roots do essentially what it sounds like they would do: root our teeth to our jawbone. The roots are crucial in order to be able to chew all different types of foods. Maintaining good oral health is essential in order to avoid periodontal disease – an infection to the roots – causing a breakdown in the bone that holds our teeth to our jawbone.

Maintaining a general knowledge of the makeup of our teeth is essential to our overall health. For more information, please contact our dentist at East Village Dental Centrel and we would be happy to answer any questions!